Probio7: High Quality Live Gut Bacteria Digestive Health Supplement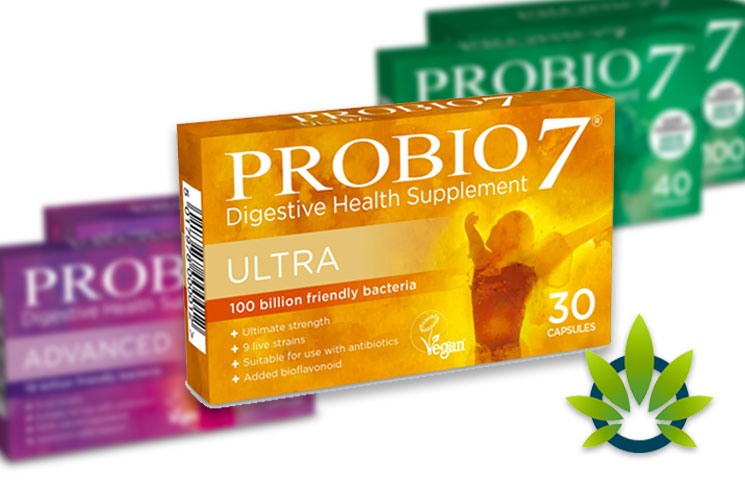 - ad -

Gut health affects one's entire body. It can impact one's immune system, brain health, and overall wellness. As a result, it is important to take care of one's gut health by not only eating well, but by also adding a probiotic formula to one's routine. With that, this review would like to introduce Probio7, a brand that offers a range of digestive health products for adults and kids. With all that the brand has to offer, users may be able to find exactly what they are looking for.
What is Probio7?
Probio7 is a digestive health brand that has been providing men and women with digestive health support and immunity since 1995. As the brand explains on its website, each of its products features a variety of high-quality, live bacteria in easy-to-take supplement form. The bacteria it the products have been carefully selected based on scientific research and the associated benefits that they have been recognized to provide. The formulas are specifically designed to target one's digestive and immune system so that users can maintain a healthy and strong system.
Carefully Formulated
There are a number of considerations to take into account when choosing a brand and its products, one of which is the formulation that the brand uses. In this case, the brand explains on its website that its products are "carefully formulated" to restore and maintain healthy gut flora in one's digestive system. The healthy gut flora is meant to provide users with a balanced and positive system. In addition, the product features prebiotic fibers, which work to "promote the colonization of the intestine, colon, and digestive tract by the 'friendly' bacteria." The formulation ensures that users can be well on their way to experiencing a healthier and happier gut system, and body.
A Unique Blend of Bacterial Strains
Good bacteria is the foundation of a quality probiotic product. In this case, Probio7 includes a unique blend of bacterial strains that have been specifically chosen for their ability to provide the gut and body with support. There are also at least 4 billion live bacteria per capsule, which means that there are different strength levels in each capsule so that every person can get the dose of probiotic necessary for optimal results. When looking at the packaging, it may be helpful to note the strains in the bacteria so that one is aware of exactly what they are getting when they choose a formula.
No Refrigeration for On-the-Go Use
Another positive quality associated with Probio 7 products is that no refrigeration is necessary. This means that those who want to add a probiotic to their day can do so at any time and from anywhere. Simply follow the usage instructions when doing so for the best results. Further, the lack of refrigeration is not meant to impact the cell structure or to damage the formula. The product will be able to maintain its overall quality and effectiveness in any case.
Probio 7 Products
There are a number of products available on the Probio 7 website. Here is an overview of a few of the formulas so that users have a sense of what the brand has to offer:
Probio7 Advanced Formula

Probio7 Advanced Formula features 10 billion friendly bacteria, which includes 9 live strains. This high-strength digestive formula can be taken daily by adults to help maintain and promote a gut with a healthy balance of flora. The product impacts one's immunity levels and digestive health so that users can experience the daily boost that they need. The healthy balance of gut health prevents discomfort, inconvenience, bloating, skin breakouts, and so much more. Further, this formula is gluten free, GMO free, and vegan.

Probio7 Digestive Health Supplement Ultra

Probio7 Digestive Health Supplement Ultra features 100 billion friendly bacteria. It is an ultimate strength formula that can help maintain a healthy balance of gut bacteria. The formula also contains added bioflainvoid, which is a phytonutrient in citrus fruit. The product works to provide users with the balanced gut that they need to mitigate digestive issues and to promote overall health and wellness. The formula is gluten free, GMO free, and vegan.

Probio7 Digestive Health Supplement Original

Probio7 Digestive Health Supplement is the brand's original formula. It contains 4 billion friendly bacteria and 7 live strains. The formula contains 2 types of prebiotic fibers as well. In addition, it is a dairy free, gluten free, and GMO-free product. The formula may be able to promote optimal digestive health and to provide users with the health and wellness qualities that they are looking to get out of a probiotic formula.
In addition to these products, the brand also offers a number of others on its website, including a kids formula, called Probio7 Kidskalm.
Return Policy
It is always useful to know the return policy before purchasing a product online. In this case, the brand's website explains that one can cancel the contract for the purchase of an item within 7 working days of delivery. The brand extends this to 14 days for convenience. The full return policy is available on the brand's website. Keep in mind that policies an also change at any time, so it is best to always check the policy before a purchase.
Probio7 Review Summary
Overall, those who are interested in a brand that offers quality digestive support supplements may want to consider Probio7. The brand's products are ones that users can incorporate into their lifestyle for regular digestive health and support. To learn more and to get started, just visit the brand's website today. https://probio7.com/