BioEmblem: Turmeric Curcumin with Bioavailable Curcuminoids and BioPerine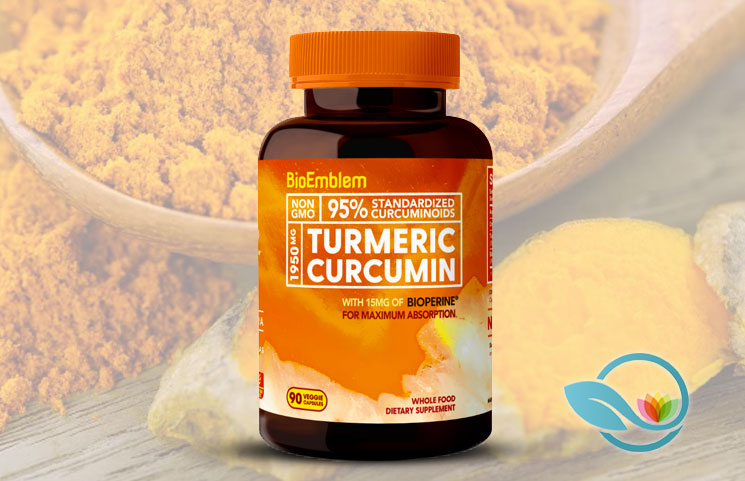 - ad -

BioEmblem offers a number of different supplement products. While the industry continues to expand, certain staples of the market persist despite all trends. To start, Turmeric curcumin continues to be one of the biggest preferred alternative treatments for inflammation. Consumer use turmeric to respond to inflammation problems, and the plant has gained notoriety among researchers and nutritionists all over the world of its miraculous potential healing effects.
It should be noted that the FDA (Food and Drug Administration) has not classified turmeric as a legitimate form of treatment for any actual illness or ailment. However, this is commonplace for the supplement industry. The FDA is notoriously slow about giving the O.K. on supplements as forms of treatment, although the organization advises that consumers are able to safely ingest the substance—even if its medicinal benefits have yet to be officially established.
Offering relatively fair prices and a transparent manufacturing process, BioEmblem is an exceedingly effective producer of turmeric products. According to their official website, the company's mission is to help users to "fill the gaps" in their regular life in order to be healthier and happier. This is not unprecedented in the supplement industry—the purpose of a supplement is to fill the needs that the body does not fill itself.
Is BioEmblem a company worth the money? Are their products natural, healthy, and effective? This guide should introduce readers to the core elements of BioEmblem and their products. As always, users should conduct their own research; this guide is not a comprehensive one, and users should verify all claims before making a purchase.
BioEmblem Products
BioEmblem offers five unique products for their customers. Though the nature of these products vary significantly, the company claims that they produce all of their products with the same quality ingredients and clean manufacturing process. As of right now, two of the five products listed on the site—Apple Cider Vinegar and Milk Thistle—are completely sold out. At this time, it is unclear how soon the company is likely to have more of these products available.
CoQ10 is a dietary supplement which includes a healthy dose of bioperine, which the company claims maximizes the efficiency of the supplement. CoQ10 is a chemical naturally manufactured in the body. The compound helps to make the mitochondria more efficient; dieticians recommend that the maintenance of effective amounts of bioperine helps to keep stress levels low and performance levels high. This BioEmblem supplement helps users to regain some of the bioperine that they naturally lose as they age.
BioEmblem also offers Krill Oil, which is used for its Omega-3. The compound continues to captivate the supplement market, providing its users with brain, joint, and heart health benefits. Additionally, Omega-3 promotes brain function, cardio health, and relief to pained and inflamed joints. The Krill Oil sold by BioEmblem comes packed with a high amount of Omega-3 to boost the functionality of the body.
Finally, Turmeric Curcumin is likely the most popular product sold by this particular company. The organization offers a unique formula, pure, non-GMO ingredients only, as well as a process of manufacture derived exclusively from natural sources and foods. As a consequence of this process, BioEmblem can guarantee users an increase to curcuminoid absorption in the body by around 20x.
About BioEmblem
Like with most companies on the supplement market, BioEmblem should be judged as much by their organization as by their products. In this respect, an air of healthy transparency underscores the organization's mission and background. BioEmblem articulates that their formulas have been derived from "countless hours" of research and development. Their production process is marked by a definitive interest in efficiency, providing users with only "what you need."
The ingredients for all BioEmblem products are displayed prominently on the site, along with their guarantee that their products remain lab tested, FDA-registered, and completely free of GMO ingredients. Additionally, the producer is interested in creating products in a way that is as healthy for the Earth as it is for the consumer. Their organic chemicals are packaged in a way which is consistently sustainable.
While BioEmblem is a reputable company with a clear manufacturing process, users should always conduct their own research before deciding to make a purchase.