Sleep promotes better metabolic health, new study suggests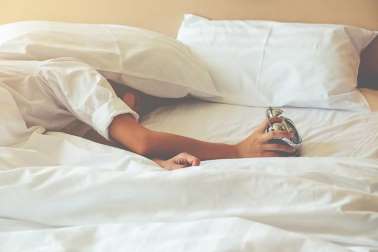 - ad -

Having a regular sleeping pattern has been associated with better and pronounced impacts on one's health. In such a recently conducted study, it reported that getting optimal amount of sleep can help in preventing the risks of having a labored metabolic health.
Metabolic syndrome is a cluster of health conditions which have been reported to enhance the risks associated with diabetes, heart diseases and other chronic diseases.
In this conducted study, the researchers focused on finding the variance in the relationship between the sleeping patterns in an individual with the risk factors associated with the metabolic risk factors. The study was conducted with 2003 participants, all between the ages of 45-84 years.
According to the reports and the observations, the researchers found that for every 1 hour in every day variation in the sleep cycle, there was a steep rise in the risk of metabolic risk factors by 27%.
This particular study was funded by The National Heart, Lung, and Blood Institute (NHLBI) which is also a sub-part of the National Institute of Health. The study was published on Diabetes Care.
Tianyi Huang, epidemiologist at Brigham and Women's Hospital in Boston, MA and who is also the corresponding author of the study suggested saying:
"Many previous studies have shown the link between insufficient sleep and higher risk of obesity, diabetes, and other metabolic disorders."
With all the findings, the one thing that the study failed to find and focus on is whether or not the irregularity in the pattern of one's bedtime along with the duration of the sleep made any difference to it or not.
Huang finally concluded her statement saying:
"Our research shows that, even after considering the amount of sleep a person gets and other lifestyle factors, every 1-hour night-to-night difference in the time to bed or the duration of a night's sleep multiplies the adverse metabolic effect."
There could very well be a number of factors influencing the discourse of one's health when it comes down to one's well being and it connections with sleep. The National Sleep Foundation suggests 7-9 hours of sleep throughout the day is important.