Ouro Vitae Mito Male: Vitality Enhancer T-Booster Essentials for Men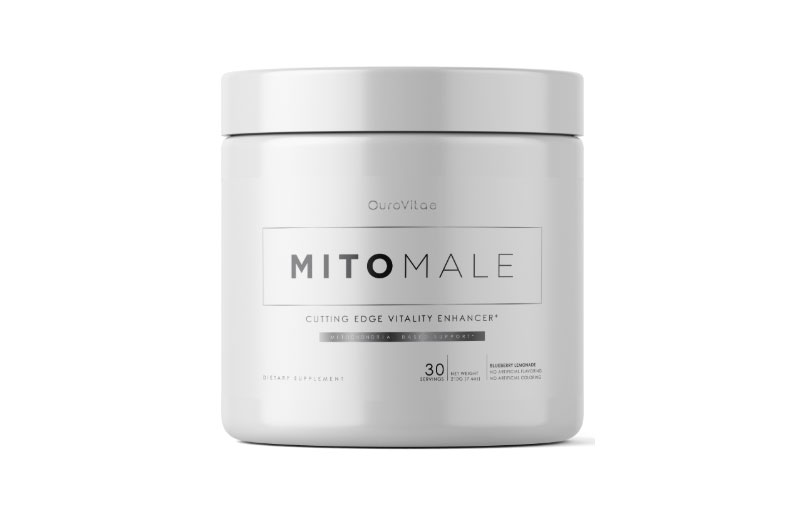 Mito Male is a supplement that supports the health and efficiency of the mitochondria, ensuring that male consumers can feel more youthful and energized.
What is Mito Male?
Aging is inevitable, and the male body handles it much different from the female body. As early as age 35, the testosterone levels start to diminish, and testosterone boosters of the past no longer seem to do the job. The drop in these hormones is seemingly attached to another problem – the mitochondria. The mitochondria is responsible for producing the energy that every cell thrives on, but the energy it produces starts to decline around age 40. Due to the way that testosterone, muscles, and even the memory can begin to diminish, the creators behind Mito Male suggest that the cause may be due to the mitochondria instead, leading them to develop a supplement to help.
By taking Mito Male, consumers may:
Improve their overall vitality
Improve memory retention
Balance the mood
Increase their mental and physical energy levels
Balance hormone levels
Support heart health
Nourish the circulatory system
Mito Male targets the mitochondria, helping to repair and restore it with a few ingredients. More importantly, the creators state that it can even reverse the aging process in the cells.
How it Works
The reason that Mito Male is able to support the vitality of men is with the included ingredients, even though the formula is minimal. The ingredients are:
L-carnitine (acetyl L-carnitine and propionyl L-carnitine)
Shilajit
Pyrroloquinoline Quinone
Zinc
Boron
L-carnitine is available in two different forms – acetyl L-carnitine and propionyl L-carnitine – which both help to increase mental clarity and promote better energy levels. Furthermore, carnitine is known for supporting mental and physical alertness.
Shilajit has been used for thousands of years in ancient Indian Ayurvedic medicine, known for its ability to enhance male vitality. It helps to increase the production of DHEA, promotes the production of testosterone, and increase in stamina.
Pyrroloquinoline Quinone (or PQQ) plays a major role in the body, helping to push the growth of new mitochondria in lab tests with mice over the course of 8 weeks. It also improves sleep quality, protects the brain, and can improve immunity.
Zinc and boron are necessary for the body overall, but their presence in the male body helps to stimulate the proper hormone levels. Zinc is connected with strengthening the bones and joints, while boron can improve the immune system, improve the reproductive system, and balance blood sugar levels.
Frequently Asked Questions About Mito Male
Let's address some of the common questions that consumers have about Mito Male.
Q: What does Mito Male do?
A: Mito Male helps the body to increase the production of mitochondria to support adequate hormone levels.
Q: What's in Mito Male?
A: Mito Male contains, acetyl L-carnitine, propionyl L-carnitine, shilajit, pyrroloquinoline quinone, zinc, and boron.
Q: Does Mito Meal require a prescription?
A: No prescription is required. However, consumers that continue to struggle with their hormone levels and energy may want to speak with a medical professional.
Q: How should Mito Male be taken?
A: Users will need to take a single scoop of the powder, blending it with water, to get daily support.
Q: Who is Mito Male made for?
A: While the target audience of Mito Male is men over age 40, men under this age can also get the energy boost they need with its use.
Q: Does Mito Male require daily use?
A: Yes. Mito Male should be taken every day in order to support men's healthy, energy levels, and strength.
Any other question or concern can be directed to the customer service team.
Purchasing Mito Male
On the official OuroVitae website, consumers have their choice of three different package options, depending on how much of the product that they want to stock up on. The options include:
One canister for $59.97
Three canisters for $164.91
Six canisters for $299.82
All of the packages come with a 30-day return policy, as well as free shipping.
Contacting Mito Male
Even with the information on the website, customers may find that they have other questions that they want to address with the customer service team. The team can be reached with a phone call (920-375-1242) or with an email ([email protected]).
Summary
Mito Male is meant for any man that wants to keep his energy levels up, as well as his hormone levels. The supplement is easy to prepare and easy to integrate into a daily regimen. The formula doesn't contain any artificial sweeteners, and the formula is condensed to six ingredients that have a powerful effect on the body.