Amy Myers MD: Health Supplements, Wellness Programs and Educational Books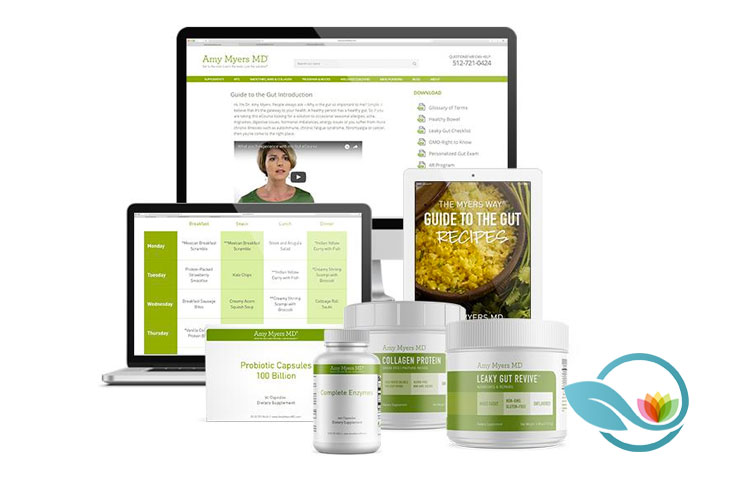 - ad -

Amy Myers MD is a wellness company founded by two-time New York Times best-selling author and physician Amy Myers, MD.
Found online at AmyMyersMD.com, the store sells a range of supplements to address all types of health concerns. Some of the company's best-selling products include collagen protein supplements, multivitamins, probiotics, gut supplements, digestive enzymes, organic greens, and more.
Dr. Myers and her supplement company are best-known among those who suffer from autoimmune, thyroid, and digestive issues. The AmyMyersMD.com official website claims patients should be able to "reverse" these conditions by using the supplements and following the guides listed online.
The Amy Myers MD marketing is particularly targeted towards individuals who have been failed by conventional medicine. Dr. Myers was motivated to branch into this space after she was failed by conventional medicine while dealing with Graves' disease.
Are the products from Amy Myers MD worth it? How do the Amy Myers MD supplements work? Let's take a closer look at everything you need to know about Amy Myers MD and the guides, supplements, and recipe books sold online.
Amy Myers MD Products
Amy Myers MD sells a wide range of supplements, products, programs, books, and kits separated into different categories. All products are available for purchase online from AmyMyersMD.com.
Below, you'll find a brief overview of all the Amy Myers MD products available online today.
Amy Myers MD Supplements
Amy Myers MD sells dozens of supplements to address all types of health concerns. The supplements are separated into categories like "Detox Support", "The Essentials", and "Candida Support", among others.
Some of the company's best-selling supplements include:
Adrenal Support
Calcium 1100mg
Candifense
Caprylic Acid
Coconut Charcoal
Collagen Protein
Complete Enzymes (Tablets, Chewables, or Softgels)
Curcumin Fat Soluble
EstroProtect
Gelatin
Glutathione
HCL
Histazyme
Immune Booster Powder
Kid's Multivitamin Chewable
L-Glutamine Capsules
Leaky Gut Revive
Liposomal Curcumin
Liver Support
Magnesium Citrate
Methylation Support
Microb-Clear
Neurocalm Mag
Organic Greens
Paleo Protein (Vanilla or Salted Caramel Flavors)
Primal Earth Probiotic
Probiotic Capsules (30 Billion or 100 Billion)
Rest and Restore
Resveratrol
The Myers Way Multivitamin
Vitamin D3/K2 10,000 IKU (Capsules or Liquid)
The supplements above are designed to achieve targeted health goals. There are supplements to address digestive issues, for example, and supplements to protect your liver. Many of the supplements are catered towards protecting a woman's health as she ages: resveratrol (the compound found in wine) has anti-aging effects, for example, and EstroProtect is designed to maintain estrogen levels as you age.
The supplements are competitively-priced compared to other high-end supplements available on Amazon and other retailers. However, Amy Myers MD does tend to be slightly more expensive than the average supplement. Some customers will be willing to pay extra dollars for extra quality, while others will be okay with a no-name brand on Amazon.
Amy Myers MD Kits
Does the number of supplements listed above overwhelm you? Are you unsure of which supplements to get to support which health goals? Fortunately, Amy Myers MD also sells a range of different kits tailored to your unique goals.
Kits currently available through Amy Myers MD include:
Autoimmune Kit
Bone Health Kit
Candida Breakthrough Kit
Essentials Kit and Essentials Plus Kit
Gut Wellness Smoothie Kit
Hashimoto's Support Kit
Immune Booster Smoothie Kit
Leaky Gut Breakthrough Kit
Parasite Breakthrough Kit
Recovery Kit
Repair Kit
SIBO Breakthrough Kit
The Myers Way Sleep Kit
Ultra Smoothie Kit
Each kit contains multiple supplements, vitamins, minerals, and products designed to support the listed health goal.
The autoimmune kit, for example, claims to be "ideal for anyone with any autoimmune condition or those who are looking to support general immune system function and balance." It contains one each of the Amy Myers MD curcumin, resveratrol, glutathione, L-glutamine, and immune booster powder supplements. By following the supplement stack, you can "maintain a healthy and balanced immune system" and mitigate oxidative damage done by free radicals.
The Leaky Gut Breakthrough Kit, meanwhile, contains four nutritional supplements – including the Leaky Gut Revive, Collagen Protein, Complete Enzymes, and Probiotic Capsules (100 Billion). These supplements, according to Amy Myers MD, will lead to "optimal gut barrier and immune function", helping patients reduce symptoms of a leaky gut.
The SIBO Breakthrough Kit, similarly, is designed specifically to address a patient's small intestinal bacterial overgrowth (SIBO), which is a medical condition where a person has an unusually large population of bacteria in their small intestine. SIBO is often a complication of other digestive conditions like irritable bowel syndrome, celiac disease, or Crohn's disease. To address these symptoms, the SIBO Breakthrough Kit contains two supplements, including Primal Earth Probiotic and Microb-Clear. These supplements claim to support healthy microbe activity in your digestive tract while discouraging bacterial overgrowth.
By buying the kits above, you can get a small discount over buying the supplements individually.
Amy Myers MD Protein, Greens, & Bars
Amy Myers MD offers a number of different protein powders and green powders, including the company's popular lineup of Paleo Protein and Collagen Protein supplements. The category includes:
Protein: Amy Myers MD sells a range of different protein powders, including their Immune Booster Smoothie Kit, Ultra Smoothie Kit, and their Paleo Protein powders (available in chocolate, mocha latte, salted caramel, vanilla, and unflavored varieties).
Greens: Amy Myers MD sells a popular Organic Greens supplement; you mix the green powder into the beverage of your choice to give your body a high dose of nutrients. The ingredients are 100% USDA Organic Certified. Key active ingredients include spirulina, chlorella, ashwagandha, turmeric, ginger, and Peruvian maca root. Advertised benefits include detoxification, a high dose of antioxidants, optimal mental clarity, better vitality, and improved hormonal health.
Bars: Amy Myers MD sells three different protein pars and a sampler pack, including the Chewy Chocolate Paleo Bars, Coconut Joy Fiber Bars, and Mint Joy Fiber Bars.
Collagen: The Amy Myers MD collagen protein supplement is very popular. You can buy the Amy Myers MD in a tub. Or, you can buy a box containing 3 or 20 packets.
Gelatin: Amy Myers MD sells a grass-fed, pasture-raised gelatin supplement that can be used as a thickening agent for baked goods. It also adds texture and protein to many recipes. It's popular among keto and paleo dieters.
Looking for an easy and high-quality source of protein for your diet? The Amy Myers MD protein supplements listed above may be able to help. They're some of the company's best-known (and best-selling) supplements.
Amy Myers MD Programs & Books
Amy Myers, MD may be best-known for her books. She wrote two books that appeared on the New York Times best-seller list, including The Thyroid Connection and The Autoimmune Solution. Today, both books are available for sale through the Amy Myers MD website. The website also sells additional programs, cookbooks, and more, including all of the following:
Programs: Autoimmune Solution Program, Candida Breakthrough Program, Elimination Diet eCourse, Guide to Gut eCourse, Leaky Gut Breakthrough Program, Parasite Breakthrough Program, SIBO Breakthrough Program, Upgraded Candida Breakthrough Program, and the Upgraded SIBO Breakthrough Program.
Books: The Autoimmune Solution, the Autoimmune Solution Cookbook, and The Thyroid Connection
eBooks: AIP & Paleo Holiday Recipe eBook, Autoimmune Protocol Recipes eBook, Elimination Diet eBook, Reintroduction Protocol Recipe eBook, and the Toxin-Free Home & Body DVD with Recipe eBook.
As you can see, the books and guides follow along with major themes of Amy Myers, MD's work. The books give you Autoimmune Protocol-approved recipes, for example, or explain how the Elimination Diet works.
These books will give you advice you won't find with conventional medicine. If conventional medicine has failed you while dealing with digestive issues, thyroid problems, or autoimmune disorders, then the guides listed above may be able to help.
In addition to the guides above, Amy Myers MD offers a free weekly newsletter containing various health tips.
Amy Myers MD Meal Planning
Amy Myers MD sells a Meal Planning Tool that will build personalized meal plans and shopping lists using over 175 recipes approved by The Myers Way system.
You can subscribe to the Meal Planning Tool monthly or annually:
Meal Planning Tool: $9 USD per month ($99 per year)
When setting up the tool, you can choose from Autoimmune Solution, Paleo, Candida, SIBO, Elimination, or Standard protocol recipes. Just click a recipe and add it to the calendar or save it to your favorites list. You can drag and drop recipes into specific days and meal slots, helping you take the guesswork out of meal planning.
The Meal Planning Tool is accessible anywhere you have internet, including any desktop, mobile, or tablet device. However, there's no specific Meal Planning Tool app.
You can also print out the guide: you can print out a weekly menu and post it on your fridge, for example, or take it to the grocery store.
About Dr. Amy Myers
Amy Myers, MD is a two-time New York Times best-selling author. The "About" page on her company's official website also describes has as "an internationally acclaimed functional medicine physician who specializes in empowering those with autoimmune, thyroid, and digestive issues to take back their health and reverse their condition."
When someone tells you they can "reverse" your condition, they're talking about curing your condition. In other words, the supplements, recipes, and advice given out by Dr. Amy Myers can cure your autoimmune, thyroid, and digestive issues.
Dr. Myers graduated cum laude from the University of South Carolina before serving two years as a Peace Corps Volunteer in Paraguay. She earned her medical degree at Louisiana State University Health Sciences Center, then completed her residency in emergency medicine at the University of Maryland.
Dr. Myers was motivated to focus on autoimmune disorders after her own experience with Graves' disease, an autoimmune condition. In pursuit of that goal, she studied at the Institute for Functional Medicine before opening her own clinic called Austin UltraHealth "to serve patients who were also failed by conventional medicine."
For the past 10 years, patients around the world have relied on Dr. Myers to treat and advise them on how to reverse their autoimmune, thyroid, and digestive issues while optimizing their health.
About AmyMyersMD.com
After running Austin UltraHealth successfully for about a decade, Dr. Amy Myers decided to launch her own online wellness platform at AmyMyersMD.com in 2017. The e-commerce platform sells supplement and guides around the world.
According to the website's "About" page, the online platform earns "over 10 figures in annual revenue".
You can contact the store through the following methods:
Email: [email protected]
Phone: (512) 721-0424
Live chat is also available during normal business hours. The company is headquartered at 12117 FM 2244 Building 1, Suite 201 in Bee Cave, Texas 78738, which is an office park in the Austin metropolitan area.
In addition to running AmyMyersMD.com, the company has an active presence across social media, including over 186,000 followers on Facebook, 21,000 followers on Twitter, 66,700 followers on Instagram, and 21,000 YouTube subscribers.
Amy Myers MD Review Summary
Amy Myers MD (AmyMyersMD.com) is a wellness platform popular among those who suffer from autoimmune, thyroid, and digestive issues, as well as those who want to improve their general health.
For over a decade, Dr. Myers has helped patients "reverse" their autoimmune, thyroid, and digestive issues. By taking the right supplements and following the right guides and recipes, Dr. Myers claims patients can relieve symptoms of all of these conditions.
To learn more about the company, visit online today at AmyMyersMD.com.