Dabbly Sunny Offense Gummies: Boost Skin Health, Eat Your Sun Care Brand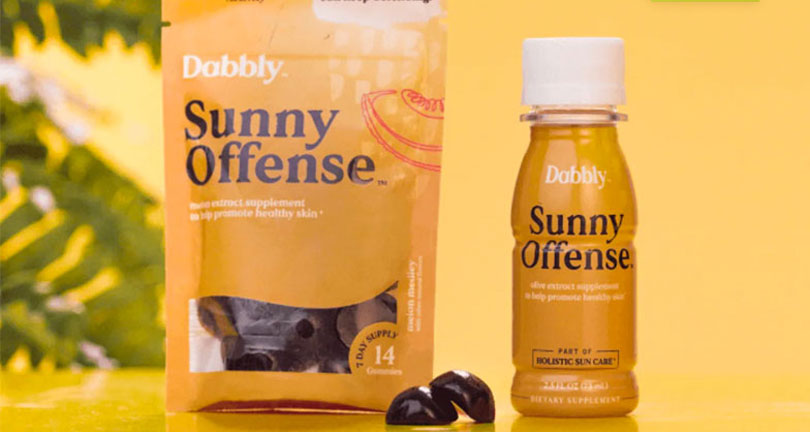 - ad -

Dabbly Brand is a company that creates oral sun protection supplements, to promote better protection from the sun, while creating a softer and healthier complexion.
What is Dabbly?
Skincare is important, and there is no place that consumers need to protect their skin more than wherever they are exposed to the sun. Sunscreen is essential for outdoor activities for good reason, but the way it protects the body is far from perfect. After all, it has to be reapplied every two hours or less, and the harmful UV rays can still break through to cause lasting damage to the body. Dabbly Brand has developed a couple of options for consumers that can help.
Dabbly Brand is not sunscreen, but a daily supplement that helps to promote resistance to the sun, while simultaneously improving the softness of the skin. The formula is available as either a gummy or a shot, much like an energy shot. With ingredients like olive extract and melon extract, apples and cranberries, the remedy is capable of managing the oxidative stress that the body deals with while exposed. Unlike some formulas that are taken daily, consumers will get a fruity and delicious taste, making the supplement easier to stomach.
Consumers that use the supplement will still need to use sunscreen, as this product is not meant to eliminate the need for it. Instead, users are encouraged to combine this daily regimen with the use of sunscreen for optimal protection.
Getting Involved in the Indiegogo
While there is no way to order the supplement available with Dabbly yet, consumers have the ability to get involved as a backer for the company's Indiegogo campaign. By backing the project at different price levels, the individual essentially secures themselves their own pre-order of the product. However, the only way these product orders are fulfilled is if the campaign reaches its target.
Right now, consumers can get the following rewards for backing Dabbly:
$12 for two weeks of gummies (early bird)
$24 for one month of gummies (early bird)
$34 for two weeks of shots (early bird)
$46 for one month of shots (early bird)
The shipments are expected to go out in May 2020.
Frequently Asked Questions About the Dabbly Brand
Let's discuss the answers to a few questions that consumers may have about Dabbly Brand.
Q: Can the products from Dabbly be purchased outside of Indiegogo?
A: Not yet, as the products from Dabbly have not been launched yet.
Q: Is this product vegan-friendly?
A: Yes, it is. This formula contains no gelatin and is made from real fruit.  All of the Sunny Offenseshots and Anti-Aging gummies are Vegan. And an added note, the formulas are made without any artificial colors, ingredients, or preservatives. The company recommends for best taste of the Dabbly shots is to consume them cold.
Q: Does the user still need to wear sunscreen?
A: While this formula offers support for sun care, it doesn't technically provide the user with a defense against sun exposure. Consumers should still apply sunscreen when they go outside, per the official company, "Sunscreen keeps the radiation out at your skin's surface. Dabbly Sunny Offense products work to stay on the offense by making your skin healthier and more resilient. Together we complement each other to round out your holistic sun care routine."
Q: What supplements are offered by Dabbly?
A: Consumers can purchase the Sunny Offense formulas or the Sunny Offense + Anti-Aging remedies. And the Dabbly gummies can be resealed our to take them on the go.
Q: What is the shelf life of the Dabbly products?
A: The shelf life is nine months from the manufacture date.
Q. What are Dabbly gummies made from?
A. Dabbly offers 2 versions of gummies, the first is Sunny Offense, ingredients include, are made with simple ingredients such as melon extract and concentrates from Apples & Cranberries. And the second, Sunny Offense + Anti-Aging gummies, made with simple ingredients such as melon extract, concentrate from Apples & Cranberries and include Vitamins C & E, and are the Dabbly anti-aging gummy.
Q. What are the ingredients of Dabbly liquid shots?
A. Sunny Offense shots, ingredients include simple ingredients such as olive extract, apple cider vinegar, and concentrates from Watermelons & Lemons. The anti-aging shot is olive extract, apple cider vinegar, concentrates from Watermelons & Lemons, and Vitamin C & E.
Q. What are the dosages of the gummy and shots?
A. Per the company, recommended dose per day is 2 gummies or 1 shot.
Q. How long will it take for Dabbly Sunny Offense formulas to take to show effects and benefits?
A. The people over at Dabbly, said the trials show promising benefits, and need to be taken every day to obtain results.
To learn more about the brand, keep an eye on the Indiegogo page for updates, and becoming a contributor to the Dabbly campaign on the progress of the campaign and the brand. For further answers to any question you may have, they can be addressed here; [email protected]
Dabbly Summary
Dabbly Brand is meant for any consumer that wants to support and defend their skin from UVA rays and the damages that come from them. The gummies and shot formulas are easy to integrate into an everyday routine but won't be ready for another few months. All of the ingredients are vegan-friendly, and users only need a single dose daily for protection. Consumers will need to remember to continue to apply topical sunscreen to get optimal protection.